15th May 2018
Comments Off

on Things to Know About the London Borough of Brent
Things to Know About the London Borough of Brent
Are you planning on buying a home in the London Borough of Brent? Picking a neighbourhood to relocate to is an important decision which is why you should carefully research the area itself,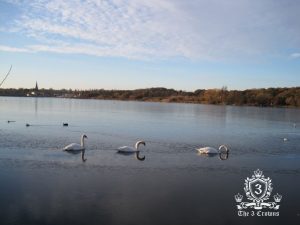 as well as those around it. We will help learn a thing or two about this Outer London borough.
The London Borough of Brent is home to many amazing landmarks such as Paddock which served as Winston Churchill's alternative Cabinet War Room during WWII. Also located in the borough are sights like Brent Museum, Brent Reservoir and Fryent Country Park. Yet, the most famous attractions on the territory of Brent are Wembley Arena and Wembley Stadium and namely, they rank as the top landmarks in this part of the English capital.
Pictured: Brent Reservoir
Brent covers an area of 16.70 square miles (or about 43.24 square kilometres) and, with a population of more than 328,300 people, it is the 23rd most populated local authority in the country. The borough consists of 25 districts but the major areas situated within its boundaries include:
Harlesden;
Wembley;
Neasden;
Kilburn;
Willesden;
But those are only dry facts and numbers. To truly get to know the London Borough of Brent, you need to take the time to explore all of its faces.
It has a great location
Even though Brent is classified as an Outer London Borough, some of its neighbours like the City of Westminster, the London Borough of Camden and the Royal Borough of Kensington and Chelsea, have a more strategic and central location. That is why a number of the areas in the borough have a more Inner-London vibe. Such is particularly the case with Queen's Park which sits right on the border between Brent and the City of Westminster. Overall, it is a rather pricey district but that is even more obvious on the southern side of the area which technically falls within the territory of the City of Westminster. Although the properties on the northern side of the district, which is part of Brent, are more spacious, they are slightly more affordable compared to those in the southern part of the neighbourhood. Still, thanks to The 3 Crowns, budget-friendly house removal services in Queen's Park are a thing in both the area's southern and northern parts.
Another area which Brent has to share with one of its neighbours is Kensal Green. A small portion of this residential area is set in the Royal Borough of Kensington and Chelsea and thus the availability of excellent transport links and fancy boutiques. Unfortunately, Kensal Green is located quite close to some of the UK capital's most desirable districts among which are Maida Vale and Notting Hill and that is why it often stays in their shadow. Nevertheless, do not assume that Kensal Green is a dull and pricey area. Although locals enjoy access to various premium-quality amenities, including to top-notch house removal in Kensal Green, the district is rather rebellious which has turned it into one of the hippest spots in the London Borough of Brent. It is also here that you can find the oldest independent boutique cinema – the Lexi Cinema.
It has an affluent side too
Well, we won't deny it – there are a few quite prestigious districts in Brent and among them is Brondesbury. This residential area tics all the boxes for an affluent area – the properties on its territory are big, impressive and expensive, the public transport links are really convenient and the choice of restaurants, bars and cafes is incredible. Even professional home removal services in Brondesbury are of a first-class quality even though they are available at a low price. So, if you are looking for Brent's cream of the crop – this is it!
It is a really vibrant and cosmopolitan place
Brent has another much more cosmopolitan face since it is home to a large number of immigrant communities. That is why don't be surprised when you go to an Outer London area such as Brent Park and you find the largest Mandir Temple outside of India – BAPS Shri Swaminarayan Mandir. Those of you who are planning to move to this part of the borough will be happy to learn that licensed house removals in Brent Park are not hard to find here.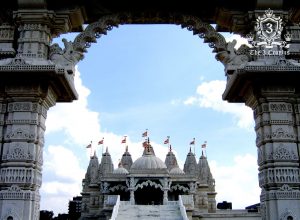 Pictured: BAPS Shri Swaminarayan Mandir
The most ethnically diverse district in this London Borough, however, is Harlesden. Also known as the reggae capital of London, this area has a remarkable culture that is worth getting to know. The availability of cost-efficient domestic removals in Harlesden and the affordable properties are also a great plus.
Certainly, Wembley Arena and Wembley Stadium are not the most impressive things about the London Borough of Brent.