Nowadays people need to change locations relatively often and sometimes this even means changing the UK for another country. If you have a removal to France on your plate, don't worry The3crowns will be here to help you do it. We are an energetic relocation company with a lot of expertise in the field. We also have skilled workers and devoted drivers. Our vans and lorries are top grade and have a lot of perks built in making the whole process pretty quick. On top of all that we will make sure you feel comfortable moving your whole household to France with us. The job is not simple but we will sure make it look like it is. We will be responsible for:
Packing
Loading
Transportation
Logistics
Unloading
You see that you can trust us all the way with your France relocation. Moving from London to the Mainland sure sounds a little scary but it is really no different than any long distance removal. In fact many destinations in the UK can also be pretty far from London. Part of our trip involves going through the La Manche tunnel but this can be achieved with vehicles and we are not using a ferry or another type of boat. It is just a 33km section under the English Channel.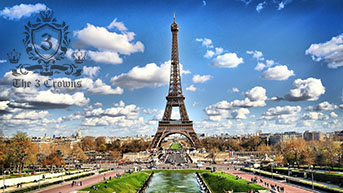 Trust our planning for a safe and easy long distance removal
We will also have a person on both ends of your route and they will be in constant communication regarding the safety and integrity of your goods. A removal to France requires proper preparation and it is always advised if you make plans ahead of things. Our workers will be able to help you pack but it will still require a little time prior to loading up. Anyway, we do have professional removal tools when it comes to putting things into boxes. We will also seal them so that nothing wrong can happen to your belongings while they are in the back of our vans. Luton vans are on your disposal when it comes to larger furniture or simply a big volume of goods. They are more reliable and easier to operate because the loading process is assisted by the hydraulic tail lifts which our luton vans have built in.
On the other hand if you are having a removal from London to France you can see this as an opportunity to get rid of some things. If you are not looking to move everything with you our company can assist with house clearance too. Since we have a wide range of services and many professionals working for us, we are also capable of performing junk removal services at low prices. Call us now and receive a free quote.
France is easily among the most popular countries in the world. It has remarkable and variable nature with great southern beaches and resorts while also accommodating breathtaking mountains and forests to the north. Paris is no doubt the city to see there. France's capital is also its most populated city and has remarkable attractions such as The Eiffel Tower, The Louvre and Arc de Triomphe.
Comments & Responses