Relocating your place of business is a high responsibility project which is definitely best handled by qualified professional movers. If you are looking for the right bunch of people to handle your office or commercial establishment removal, then you surely came to the right place. Our professional office removal services are the practical and cost efficient solution you need. Let us handle your office relocation and we guarantee to leave you with money to spare, and a smile.
Expert planning, professionalism and individualised approach
There are no two office removals alike, that's a fact we came to realise long ago. Since every commercial relocation project is unique and presents specific hurdles to overcome, we have devised a flexible and versatile service which is easily customised to suit the requirements at hand. This is not achieved at the expense of quality or affordability, meaning commercial clients receive comprehensive yet cost effective solution.
Our commercial removal coordinators and drivers can visit the premises in advance of the actual removal day in order to meet with customers, discuss their service requirements and of course conduct a job viewing in order to organise and structure the actual removal process in the most suitable and efficient way;
We will take into consideration all aspects and specific concerning the removal project at hand, the job will be scheduled for a suitable off peak time, and completed with the least amount of disruption to other property occupants (should there be any);
The office or commercial property removal will be carried out and completed in the shortest time possible as to reduce business time and lost profits for customers;
The removal service we organise will cover all stages and aspects of the relocation, including all important things like inventory and packing/labelling etc. of items, crates, boxes, filing cabinets, office electronics etc.
Our office removal services are just as good as the home removal offers we have for clients in Highbury, Earls Court or Hoxton. Call to learn more about the removal options of our company.
Highly efficient and reliable removal teams, streamlined transportation & delivery
Pace, precision and efficiency are essential aspects of any well organised office relocation service, and ours does not make an exception. Because we look to provide and ensure impeccable service, quick completion and no errors along the way we got the right people for the job. Our specially trained office removal teams will get the job done right.
All work concerning the office removal done by experienced, highly skilled technicians;
We employ qualified, professional removal drivers who ensure correct loading/offloading;
We operate a fleet of purpose-built removal vehicles to allow for safe transportation and quick delivery of all office equipment;
Reasonable service costs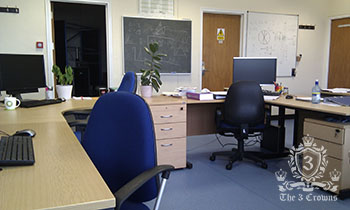 With our man and van business in London, you don't have to worry about excessive or unexpected service costs as we will do our best to provide optimal pricing given the circumstances. We understand that running a business effectively means keeping the books balanced, which is why our office relocation solutions will not put a dent in your company budget.
We prepare and supply custom tailored removal quotes which reflect the actual scale and complexity of the job;
We offer flexible service pricing (no hidden fees) in order to meet budget requirements set forth by customers;
Additional options can be included as part of the office removal for more value for money;
London is home to Great Ormond St Hospital, which is not only a highly regarded medical institution but also incorporates a dedicated charity organisation. It is a little known fact that the hospital actually owns the copyrights to Peter Pan (entire franchise) and receives royalties for it. Peter Pan author J.M. Barrie who did not have any children, granted the hospital the copyrights to Peter Pan in 1929. Great Ormond St Hospital is located just off Russel Square in Central London.
Comments & Responses