Full scale removals are very serious business and can sometimes be pretty tough to accomplish. Many times you would need to actually have a long distance relocation and even go to another country. Imagine having to transport all of your household to another city. Fortunately you can give The3crowns a call and never worry about how the whole thing is going to happen. We are experienced movers with plenty of knowledge on how to perform domestic or office removals. Our company has a variety of services and we guarantee your satisfaction. You are also not paying a lot of money to hire us. Instead, our prices are cheap and our service is elite. We have exactly what it takes:
Manpower
Various types of vans
Insurance
Tenacity and devotion
Our transportation methods are second to none
With us you really get the whole package and this international removal to Dublin will not affect your schedule at all. Even though we are talking about a large project involving furniture transportation from London to Dublin we will make sure that everything goes smoothly. Our company will tailor the relocation according to your needs and will make sure that everything is the way you like it. We will put a person in charge of the operation and they will be along your side throughout the whole process. You can take any questions directly to them as they will account for all of your belongings. Our support is available 24/7 and this is a service that you aren't getting anywhere. So don't think that we work only over the phone. The moment you decide to book us we will dispatch a team to evaluate the situation and give you all the info regarding this long distance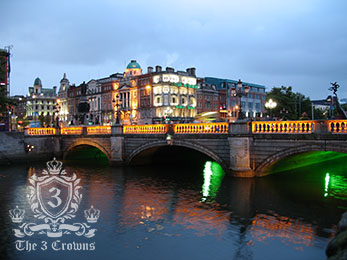 move to Ireland. Removals to Dublin also include going overseas and this means you should be made aware that it involves transportation by a ferry over The Irish Sea.
You have the option of also hiring packers from us. You can have everything prepared and our drivers will simply pick it up and transport it. But you can also have us over prior to this and let us take apart your larger furniture and put it into boxes. We have all the necessary removal tools and will safely place your goods in boxes and bubble wrap. We are fully insured and this goes for our van transportation as well.
We can easily assist you with packing and loading and subsequently transporting items from Snaresbrook or Bankside, for example, to your new home in Dublin. Our team guarantees a speedy pickup of your items, regardless your London area, i.e. districts like East Dulwich or Rotherhithe, SE16.
Having a Removal to Dublin should not bother you at all as our vans have all the safety elements installed and we also run some slick software prompting us about the weather conditions along the way, ferry timetable and traffic situation on the road.
Dublin is the capital city of Ireland and the largest settlement of the country as well. Actually during its remarkable growth during the 17th century Dublin became the second largest town in the British Empire. Two very important landmarks there are The Dublin Castle and the Spire of Dublin, The former was erected as medieval fortress and the latter is a famous monument.
META: No removal to Dublin will give us any problem. CODE long distance relocations are done easily with us. Get cheap removals to Dublin.
Comments & Responses