Being a professional removal and delivery service provider, we understand and appreciate the importance of a flexible, versatile and inexpensive solution which covers a myriad of requirements for both private and business clients. Hence our specialised man and van service – the practical and efficient way to relocate anything from single items to the contents of entire homes or offices. The London man and van service we offer is not bounded by the usual regulations and considerations of general removals and makes for a more flexible and versatile solution. However, certain large scale relocation requests are better covered by the full scale removal services we provide.
When do you need a man and van service?
There are many instances in which a man and van service would prove more suitable than other options. Below are listed some of the many purposes and occasions for using our specialised man and van service:
Odd or unusual removal requirements i.e. relocating the contents of a garage, attic and kitchen;
Removal of single, odd or bulky items like standalone furniture pieces, bulky appliances, oversized interior and exterior property features etc.
Safe relocation of high value belongings like

artwork

,

collections

,

music instruments

which require individual packing, securing and transportation;
Small scale removal projects like flats, one bedrooms, student removals etc.
Pickup and delivery of large store purchases or internet order items to customer specified address;
Pickup and delivery of

bulky items

(furniture, appliances etc.) from brick and mortar stores to customer specified location;
Fixed schedule delivery of household and office supplies;
One off or regular business 2 business & business 2 customer deliveries;
How does the man and van service actually work?
Much in the same way as any other of our removal solutions. We organise and schedule the man and van removal or delivery service as per our customers' needs and wants. Usually we send out a team of one driver and one helper/porter, however in some cases we might send out an additional pair of hands to help out.
A man and van service is an excellent solution for a small or partial house removal in any London area, like Hampstead or West Hampstead, NW6 as it offers convenience and lower expenses.
Our man and van removal teams deal with all stages of the service from packing and wrapping of items to unpacking and distribution of goods upon delivery. All necessary precautions will be taken in order to ensure the careful handling and safe transportation of customer belongings.
The removal drivers (who also happen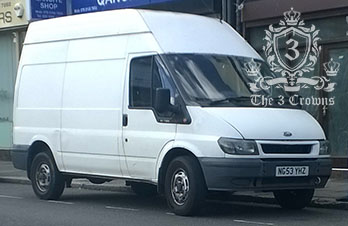 to be team leaders) oversee the correct loading and offloading of items to and from our vehicles, the driver also makes sure the load is secured and will remain so during transportation. Vehicles we operate are specially equipped for the job. If needed additional packing and securing procedures will be performed to prevent damage to valuables, so please bear with us for the time being.
The man and van service not only delivers your items, but also provides good value for money and much needed peace of mind.
Nelson's Column (a famous London landmark immortalising Royal Navy Admiral Horatio Nelson) was completed in 1842. Shortly before its completion a team of 15 stone masons (engaged in the construction project) had dinner atop of the 17 foot column before the actual Nelson statue was placed. Nazi Germany's dictator Adolf Hitler once planned to dismantle Nelson's Column and ship it back to Berlin to have it rebuilt there.
Comments & Responses